Aravali Resort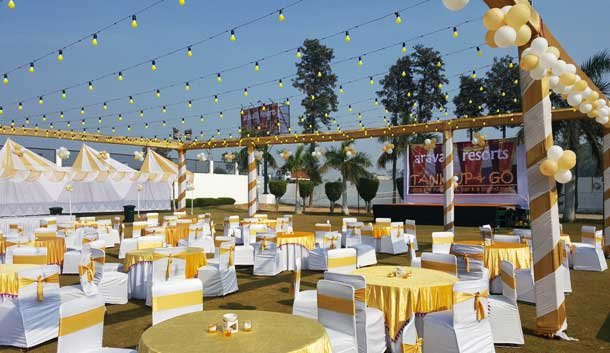 About the resort
If you are planning for a weekend getaway and that too not far from Delhi and again thinking about the pocket pinch, then Aravali Resort near Delhi is the ideal solution. The resort is equipped with the latest state of the art facilities but with beautiful scenery. The natural landscape is awe inspiring.
How to reach
The Aravali Resort is situated on the Delhi Jaipur Highway in the state of Haryana. It is very near to Delhi and easily accessible from Gurgaon as well. The nearest airport is Delhi Airport which is just 51.5 km away.
Loads about lodging
The resort provides excellent lodging facilities. The rooms are large and well furnished. All the rooms are in the form on en suite and attached bathrooms. There is a functional television set in each room with all the cable channels. Most importantly, all the rooms are with air conditioning and with heating facilities. So, you are free to visit the resort during any season of the year. The attendants are very prompt and well behaved. There is an attendant available for 4 hours at the front desk.
Finest facilities at your disposal
The Aravali Resort also offers the facility of a spa. So, you can get a wellness massage and get yourself relaxed and refreshed.
The resort offers you WIFI facilities as well. Thus, you would not really be disconnected from your work yet be able to get a refreshing break.
The barbecue is just like the icing on the cake.
The resort also offers a terrace restaurant where the guests can enjoy a breathtaking view of the garden and the greenery around.
There is also a convention and seminar centre.
The resort offers all the facilities that you would be craving for. The resort is placed in a lush green compound. There is a swimming pool and the attendants are extremely well mannered. The resort boasts of an excellent cuisine. The food is delicious particularly the Butter Chicken.
The most important aspect that is also attractive is the price. The resort is extremely economical and is an ideal weekend destination to visit with family and friends. It is also a very good and viable option for day picnic resort. Take out some time from your busy life and cherish beautiful moments with your loved ones or professional colleagues at Aravali Resorts.